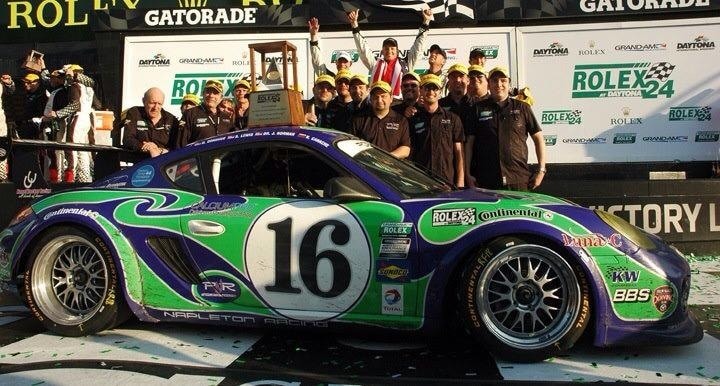 Napleton Racing Delivers Dominant GX Class Debut Victory in Rolex 24 At Daytona

No. 16 Napleton Racing Porsche Cayman S with Shane Lewis, David Donohue, Dr. Jim Norman and Nelson Canache Concludes Stellar Month of January in Daytona's Victory Lane

DAYTONA BEACH, Florida (January 27, 2013) Napleton Racing led January's Roar Before the Rolex 24 test, paced practice, captured the pole position in qualifying, and Sunday, secured the inaugural victory of the GRAND-AM Rolex Sports Car Series' new GX class in the 2013 Rolex 24 at Daytona.

In the most dominant performance of the race, Napleton team drivers Shane Lewis, David Donohue, Dr. Jim Norman and Nelson Canache led nearly the entire 24 hours aboard the team's debuting No. 16 Napleton Racing Porsche Cayman S. It's easily the biggest victory ever for the emerging Napleton team, based out of Chicago-area dealership Napleton Porsche of Westmont.

"It's a testament to these guys," Lewis said. "When I say they started this project in November and it was 24/7, it was 24/7. When they left the Roar, the flu goes around and everything, every single one of them got sick, every one, and yet they were in the shop every single day working on the car."

Ed Napleton, owner of the Ed Napleton Automotive Group and a Cayman competitor as well, was the team principal behind the effort along with Napleton Porsche of Westmont General Manager Ron Barnaba. Barnaba is also the founder of the Pirelli Cayman Interseries. Additional leadership came from team manager Mike Colucci, who has also managed Brumos Racing in the past.

Donohue, also a former Brumos veteran and winner of the race overall for the team in 2009, praised the Napleton team's preparation and the performance of the Cayman this weekend.

"We did push pretty hard for a long time through the night," Donohue said. "I wasn't pushing towards the end, obviously, but I think it's a testament to Porsche and the Cayman. Each of these cars in our class was independently built by small shops and Napleton is probably the biggest shop because it's actually a Porsche dealership."

The only minor issues that delayed the Napleton Cayman throughout the 24-hour endurance classic were early radio issues, a small spin, and a couple pit lane violations. Otherwise it was a near flawless race for the No. 16, adorned in a "Hippy" paint scheme that paid tribute to the famous purple and green Porsche 917L that raced in the 1970 24 Hours of Le Mans. The car did not make one single trip to the garage area.

"That was probably the key to our success," Lewis said. "If it wasn't for the pit lane violations that we had and a couple other minor incidents on track, we would have had the cleanest run that I think anybody has had at Daytona for a long time. But not one time to the garage, not one mechanical issue other than putting tires, fuel, I think they added some oil on occasion. I requested a tear off one time. That was about as mechanical as it was. It was flawless."

The race's first half did see the two other Caymans entered pose a threat at times, but each lost laps throughout. Napleton ended the day with a comfortable 10-lap margin of victory after at times holding leads of two or more laps.

"I found it a little bit odd that we got a couple-lap lead early in the race, and really didn't continue to extend it at the same rate, which was a little disconcerting," Donohue said. "But once we were on our own lap, it helped with our pit strategy. We were able to keep their laps off so they couldn't come up to us."

This race marked the Napleton team's major endurance racing debut, but didn't show signs of looking like a first-time effort.

"For us it was a race of preparation, and our guys did a superior job when this program was conceived in early November of building a car and making it reliable and keeping the stock parts," Donohue said. "There are surprisingly many, many stock parts on this car, where they needed to be, and the proof is in the pudding."

Canache, who made his first Rolex 24 start last year, achieved a significant milestone as the first Venezuelan driver to win the race.

"For me, many Venezuelan drivers have been trying to get this Daytona 24 win, and for me, I'm just so happy to bring this to my country," Canache said. "This is going to be big in Venezuela, so I can't wait to get there and be with all my people there and celebrate this win."

Norman completed the quartet and adds his first Rolex 24 victory to winning GRAND-AM Rookie of the Year honors in 2012.

Before tasting this success, the 2012 season was a successful one for Napleton, which earned a pair of GTS-class victories with two different Caymans in the Pirelli World Challenge series.

Additionally, Napleton Porsche of Westmont also owns and operates the Pirelli Cayman Interseries Endurance Cup Championship that completed its third full season of competition last December at Daytona.